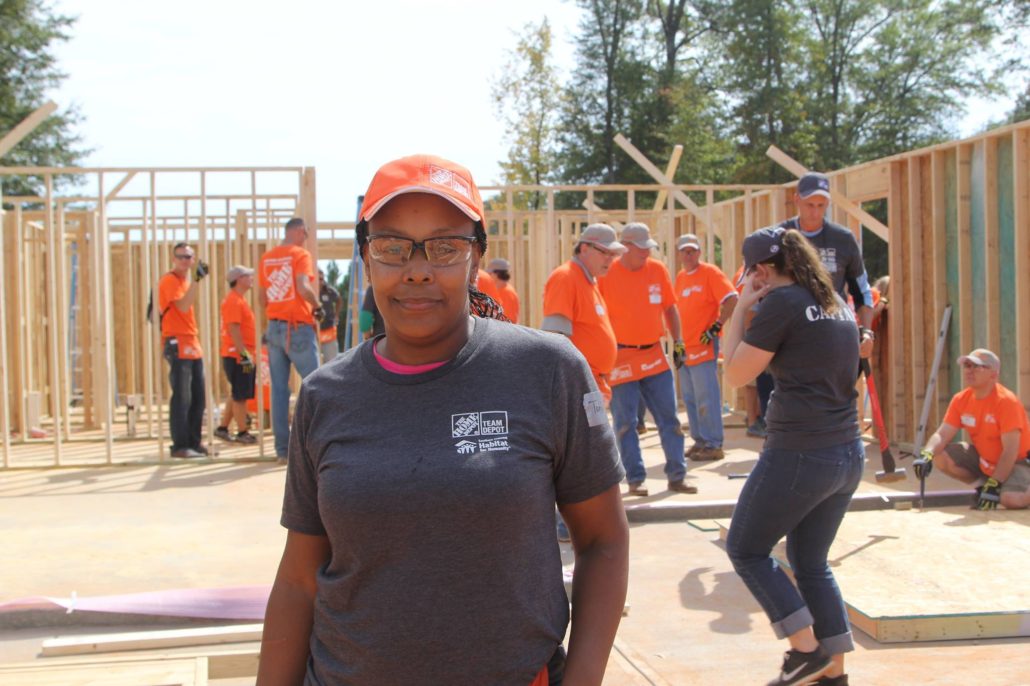 Meet Our Newest Homeowner, Toni Tayborn
Toni Tayborn has been part of the Habitat family since November 2015, and we are finally breaking ground on her new home this fall in the Hannah Springs neighborhood of Lovejoy, Georgia. She has been working through her "sweat equity" hours earnestly and without complaint, and we hold a special place in our hearts for her as she is also a fellow nonprofit worker at the Salvation Army. We caught up with her and asked her a few questions so that you can get to know her better.
Please tell us a little about you and your family.
My name is Toni Tayborn, and I'm a proud mother of 3 college students. Raven is 21 and will be graduating with her associate's degree in December. Jerome is 20 and Eddie is 19 and are in their first year.
How does your family spend quality time? What are your hobbies?
We enjoy spending holidays together and talking about our time apart. We love shopping and watching movies. Since my children are away, I found comfort in my new pet yorkie, Cavalli.
Where do you work?
I work at The Salvation Army and have been with them for 5 years. I am a caseworker that provides financial assistance to families in need.
Why did you apply to be a Habitat homeowner?
I have always had a dream of owning a home. Before my father passed away, he gathered all of his children and gave us a speech on the importance of owning a home.
What are you looking forward to the most when you are a Habitat homeowner?
My personal goals are to own an affordable home and have a place for my family to enjoy. To have a clean and safe environment that is my own.
Where do you live now?
Garden Lake Apartments. My apartment is very small and has a bad odor. It is crowded outside of my door where I have to say excuse me almost everytime I walk in and out of my door. I believe the odor is coming from the pipes.
How did you hear about Southern Crescent Habitat for Humanity?
I heard about the program through a client that came to my job for financial emergency assistance.
What about Habitat has been the biggest surprise to you?
The amount of volunteers and donors that make this all possible, the hope that they bring to families looking to be homeowners.
How will your life change once you move into your new home?
I will be content and without stress due to instability of moving from apartment to apartment due to rental increases each year. Owning a home means everything to me. It's ownership, stability, and security for me and my family.
What is the first thing you are going to do in your new home?
Praise God for giving me a stable home for myself and my family, and decorate it the way I have always wanted to decorate my place but could not because it was not my own.
What would you like to say to Habitat and the volunteers that are going to help you build your new home?
I would like to thank them for making my dream possible and giving me an opportunity to own a home. I would like to thank the organization for allowing me the opportunity to make my goal and dream a reality.
Interested in helping Toni start a new life? Click here to view available dates to volunteer with the construction of her new home, or click here to make a donation. 
https://www.schabitat.org/wp-content/uploads/2016/10/14715716_10154653049800127_3302622309661792658_o.jpg
1365
2048
schabitat
http://www.schabitat.org/wp-content/uploads/2018/01/SCHabitat_LogoMain_Black.png
schabitat
2016-11-03 14:04:41
2016-11-03 14:05:00
Meet Our Newest Homeowner, Toni Tayborn